Project
Begun in November 2018 as an artist studio that the public could visit, Future IDs at Alcatraz officially launched in February 2019 with a Day of Public Programs and an exhibition featuring ID-inspired artworks. It concluded at the end of September 2019 with an Art and Justice Summit on Alcatraz. 
The exhibition and programs were situated in the New Industries Building that once housed the prison's laundry and manufacturing facilities. This cavernous space included a large exhibition and programming room, a flexible space for workshops and meals, a video viewing room, and, importantly, a separate, quiet Space for Processing and Reflection.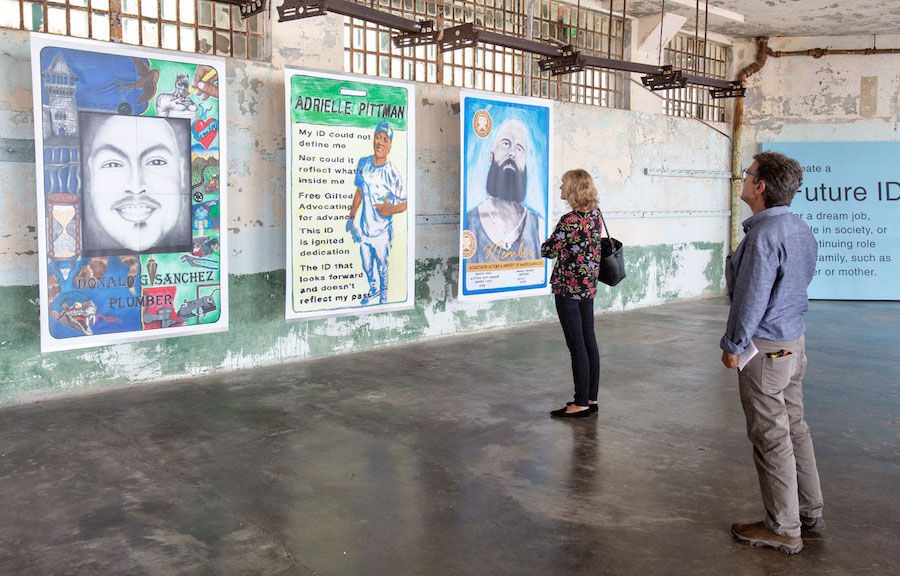 Bright, colorful, and hopeful, the 42 individually designed, ID-inspired artworks were enlarged and printed on vinyl to stand up to the physically imposing space. In stark contrast to prison-issued IDs, these self-portraits represent individual stories of transformation and summon feelings of compassion through personal testimonials in word, image, and bodily presence about the past, present circumstances and future dreams of individuals with conviction histories.
Intending to reach as many people as possible, and recognizing that perhaps a "default" experience on Alcatraz rests in nostalgia and Hollywood notions of prisons, the project, in conjunction with the National Park Service and the Golden Gate National Parks Conservancy, worked to introduce the 200,000 Future IDs visitors to social justice issues in meaningful ways. 
Future IDs also provided moments for deeper engagement through ongoing community programs co-designed with system-involved individuals, organizations, and communities. Future IDs invited these partners to work with the Future IDs Creative Team to explore the storied site and exhibition as a platform to amplify their messaging and investigations. This resulted in 27 community programs with performances, workshops, and roundtable discussions, building an ever-widening sphere of connectivity among those who care about social justice and reentry back into society.

Process
Future IDs at Alcatraz emerged from a fluid, five-year collaborative process led by artist Gregory Sale, who works in the growing field of socially engaged art, in which artists collaborate with individuals and communities on aesthetic responses to social challenges. Specifically, his work engages issues of mass incarceration and reentry, illuminating the complexities of race, democracy, and how we care as a society.
The idea of generating newly imagined, self-determined identity cards as an alternative to those issued by prisons grew out of meetings Sale instigated with members of the Los Angeles-based Anti-Recidivism Coalition (ARC), a support and advocacy network for current and formerly incarcerated men and women. Together, Sale and these ARC members set about to translate the group's justice reform efforts into a visual language capable of evolving public opinion about citizens with conviction histories.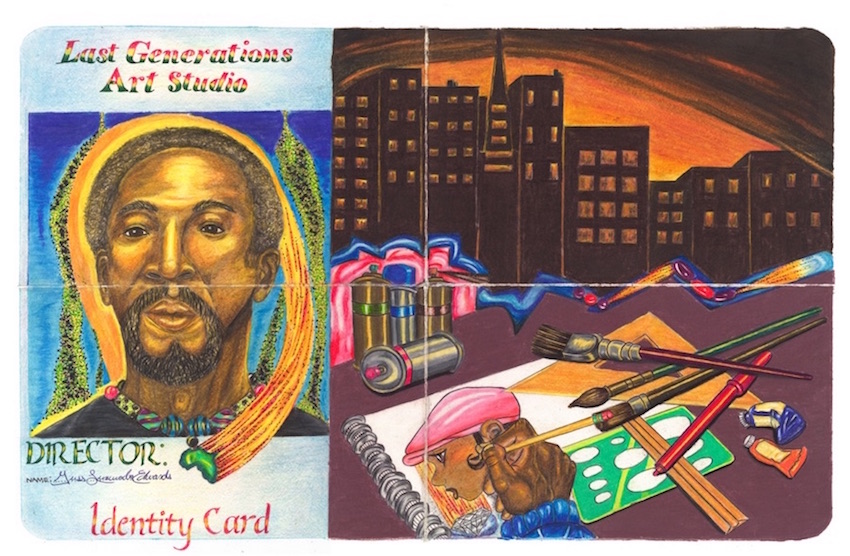 In particular, a story from ARC member Dominique Bell, about approaching a busy California state senator between meetings, captured the group's attention:
"Listen, you don't have a lot of time. I just want to show you something." And I reached into my pocket and pulled out my old prison ID. The Senator looked at it, and then I went in my other pocket and showed him this college ID. And I said to him, "This is the different side. That is the difference." And he responded, "Enough said."
Later, when the senator voted for the juvenile justice reform bill SB-260, he credited his encounter with Dominique as the moment he made up his mind.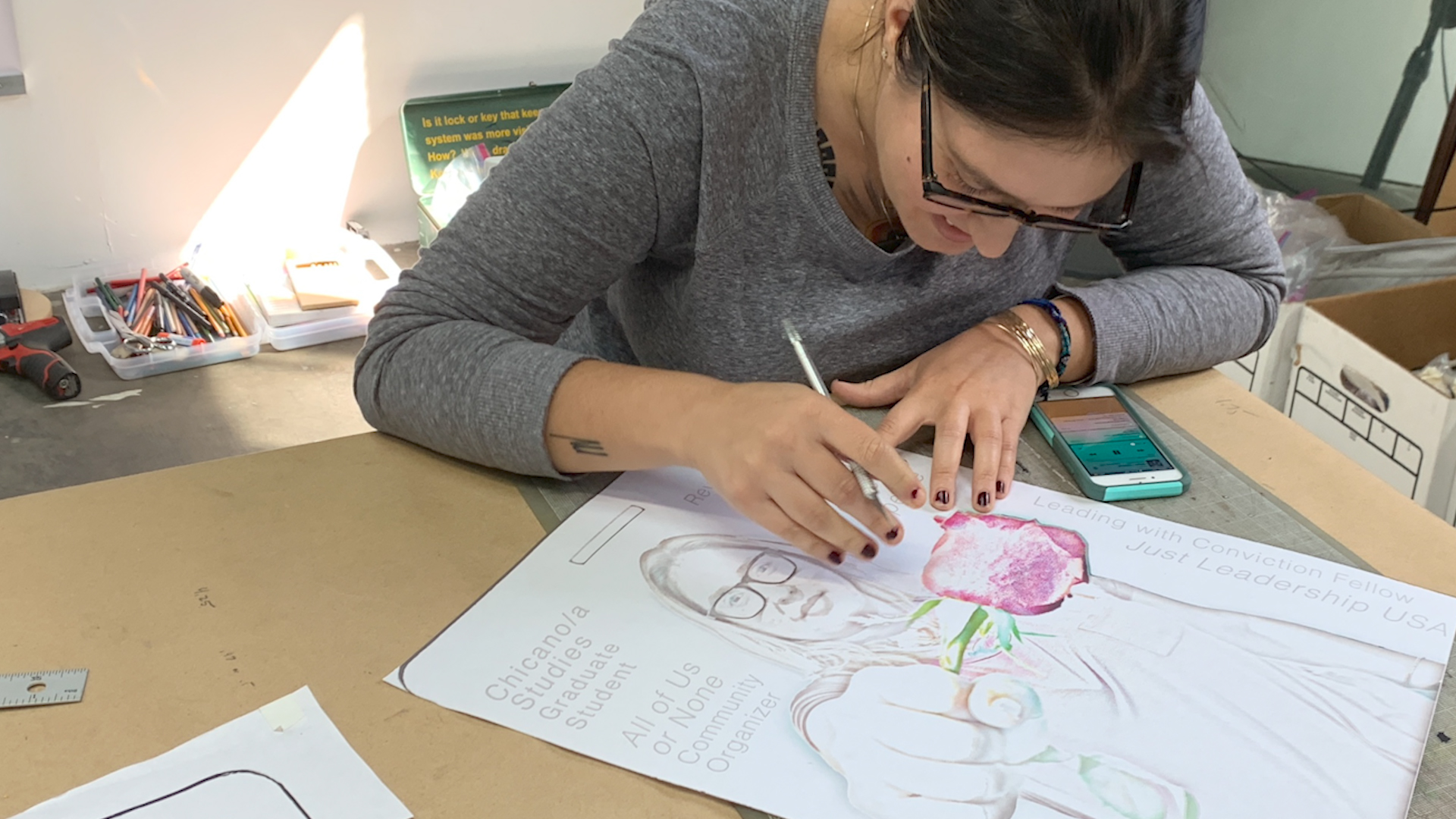 Recognizing the power of one individual story to shift the stigma against those with conviction histories, the group explored ways to harness the impact of 50 or 100 stories simultaneously.
Sale and conceptual contributors Aaron Mercado, Dominique Bell, Dr. Luis Garcia, Emiliano Lopez, Kirn Kim, LaVell Baylor, Ryan Lo, and Sabrina Reid designed and led Art and Future Planning Workshops across California, both inside prisons and in communities. The workshop series responded to the reductive prison-issued ID and provided a structured environment for participants to conceive and develop a vision for a future self—for a dream job, a role in society, or a continuing role with family, such as father or mother. 
They also visited museums, took trips to the state legislature in Sacramento, participated in various artistic and activist efforts, and used those experiences to expand the series of community programs. These activities served as the foundation for Future IDs, framing the project as a social impact campaign.
To expand the scale and scope of the Future IDs campaign, the group secured a commitment for an 11-month project on Alcatraz, the notorious prison-turned-national park. A team of four core-project collaborators – Dr. Luis Garcia, Kirn Kim, Sabrina Reid, and Jessica Tully – worked with Sale to advance Future IDs into full production and presentation on Alcatraz. Others who contributed in meaningful ways to the conceptualization and unfolding of Future IDs also periodically participated, bringing a wealth of lived experience to the project. Inviting these collaborators to help conceptualize social-aesthetic structures, to co-produce artistic components, and to direct the advocacy intention of the work was crucial to the process and success of Future IDs at Alcatraz.
"For the reentry community, validation is monumental. It makes people feel that they have a stake and are included in a process that is so embraced. So what we've done has not gone unacknowledged. It's not unusual to ask kids what they want to be when they grow up; but adults, we don't ask anymore, even though adults have aspirations and are still growing. Being at Alcatraz makes the Future IDs artists feel we've done something of importance. It's going somewhere."  — Philip Lester, Artist-Participant
Artists in the exhibition included Aaron Mercado, Adrielle Pittman, Andrew Winn, Angel Gutierrez, Anthony Chavez, Arnoldo Trevino, Brandon Hein, Bruce Fowler, Candice Price, Cirese LaBerge-Bader, Cuong Tran, Daniel Gamez, Darlene Frontuto, Donald G. Sanchez, Dr. Luis Garcia, Eric Bergen, Emiliano Lopez, Felix Lex Miranda, Guss Lumumba Edwards, Gustavo Tafolla, J Antonio Morales, Jarred Williams, Jennifer Leahy, Joe Frye, John Winkleman, Jonathan C. Marin, Jonathan Daniel Melendez, Jonathon Miller, Jonté Campbell, Juan Sanchez, Kirn Kim, LaVell Baylor, Lily Gonzalez, Michael Griego, Phillip E. Lester, René Hernández, Ruben Radillo, Sabrina Reid, Stan Bey, Weston Scott Kruger, William Wang, and Yahniie Bridges.
A group of Art & Justice Interns – Baldemar Arroyo, Matt Brecke, Ernest Kirkwood, Kelly Savage and Julia Scheinman – chosen from among system-connected individuals and justice advocates attending local colleges and universities, provided meaningful support for visitor experience and the project as a whole. 
Importantly, the ripples of public news about the project on Alcatraz also impacted those inside prison (40% of the artists in the exhibition), connecting them with those succeeding outside and validating their efforts.
A Pressing Need
Though none of the Future IDs participants were incarcerated on Alcatraz, which closed in 1963, individuals returning to society – both then and now – face an almost insurmountable stigma of having a history of incarceration, leading to consistently high rates of recidivism. 
The United States incarcerates more people per capita than any other country. It has 5% of the world's population but 25% of the world's incarcerated people. More than 95% of those incarcerated will eventually be released. Taxpayers spend 85 billion dollars a year on prisons, and 1 in 3 Americans has a criminal record.
The process of release, reentry, and reintegration is one of the most challenging issues now facing the criminal justice system. The failures of this process have profound collateral consequences for public health and safety, state and federal budgets, and connectivity among families and communities. People often do not see themselves directly affected by mass incarceration; the reality is that the powerful culture of punishment affects everyone. 
America's penal system could be at a turning point. Across the country, reforms and growing awareness of systemic injustices have begun to reverse the effects of decades of mass incarceration. As sentencing and bail laws become less draconian, more people are being released, and the disproportionate punishment of ethnic minorities and the poor is now widely recognized: nationally, African Americans are seven times as likely to be incarcerated as Whites; Latinos are almost three times as likely. 
Future IDs takes on these challenges wholeheartedly. Kirn Kim, one of the core project collaborators, has remarked on how great it is to showcase this project in a place that was once the most infamous prison in the world:
"Our work especially supports guys on the inside who are thinking, 'Look, we're just going to die in prison, why even try?' Now people are coming home, people are getting a chance to work—that wasn't happening before. Future IDs is part of that renewed hope."  — Kirn Kim, Core Project Collaborator
Alcatraz: Holding Civic Space For Justice-Involved Individuals
Alcatraz was once among America's most fearsome prisons, cut off from the free world on an island in the San Francisco Bay. It is also the birthplace of the Native American Red Power movement, which began as an occupation of the island from 1969 to 1971. Today it is a national park, a sort of "prison museum," visited by 1.5 million tourists a year.
Alcatraz is jointly managed by the National Park Service (NPS) and its non-profit affiliate the Golden Gate National Parks Conservancy. Together they host an Art in the Parks program, which presents projects such as @ Large: Ai Weiwei on Alcatraz and Future IDs. In 2014, Alcatraz was designated a member of the International Coalition of Sites of Conscience, which aims to connect past struggles to today's movements for human rights, using difficult memories to inspire action.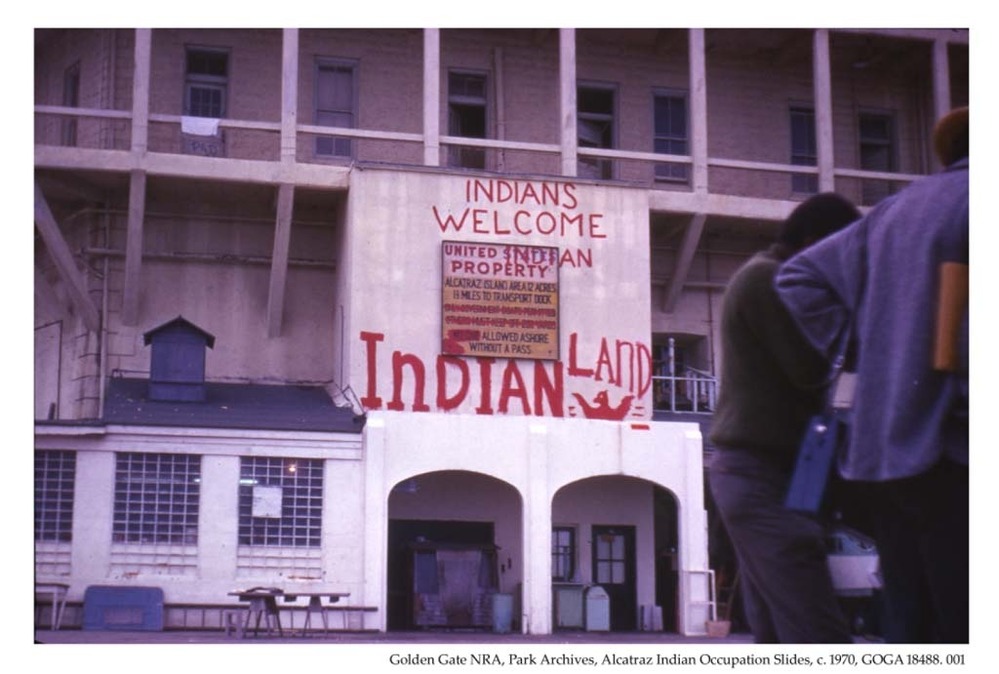 As NPS and the Parks Conservancy continue to build and investigate ways in which the site can serve as a valuable civic forum for local communities, as well as national and international visitors, they have begun to modify Alcatraz's mission. They aim for Alcatraz to be internationally known for catalyzing transformative thinking and experiences related to the themes of incarceration, justice, and our common humanity.
Future IDs furthered this intention by engaging Alcatraz's layered history of incarceration, activism, and self-determination. The project centered artistic and social engagement on justice-impacted individuals and held civic space for the reentry community to share their stories of trauma, transformation, and resilience.
Rebecca Jackson, after participating in "the family goes to prison, too" program, spoke to the value of these communal gatherings:
"I can't begin to tell you how important that whole thing was in regards to my relationship with my daughter. Our journey to healing the wounds my absence caused is in its toddler stage, and having an audience to share some of that with, held so much power and positive energy and support she needed in that moment. Could not have made as much of an impact if we said the same things to each other alone in a room."  — Rebecca Jackson
 Gratitude
Projects of this scope, in order to be realized, require tremendous institutional, community, and individual support. To all of you, we offer our sincere gratitude.  
Future IDs at Alcatraz was generously supported by the Creative Capital Foundation, A Blade of Grass/David Rockefeller Fund, Kenneth Rainin Foundation/Open Spaces Program, SPArt, Art Matters, Herberger Institute for Design and the Arts at Arizona State University, and individual contributors. It was developed during artist residencies at the Montalvo Arts Center, Headlands Center for the Arts, The Bunny House, and ModNomad Studio, and received in-kind support from Olson Visual and SRU Studios.
Special thanks to Alexandra Shabtai, Brent Bolthouse, Scott Budnick, Shaka Senghor, Carol Newborg, Emma Hughes, Arden Burstein, Chelsi Rossi, Eric Montgomery, Leslie Lakes, Deanna Van Buren, Eric Susser, Jenny Pizer, Doreena Wong, Chris Santa Maria, Sarah Shourd, Johanna Taylor, Ruby Lerner, Anne Bray, Paul S. Flores, Joan Osato, Dawn Sinko, Anastasia King, Roberto Bedoya, Eliza Gregory, and many others.
Future IDs at Alcatraz finds its connectivity and resonance through engagement with the Anti-Recidivism Coalition, Prisoners Reentry Network, William James Association's Prison Arts Project, Community Works West, Youth Speaks, Young Women's Freedom Center, Actors' Gang Prison Project, Project Paint, Insight Garden Program, San Francisco Conservation Corps, Project Rebound at Fresno State, Revolutionary Scholars, Social Practice Arts Research Center at UC Santa Cruz, Creative Visions, Montalvo Arts Center, Fort Mason Center for Arts and Culture, California Lawyers for the Arts, Maricopa Reentry Center, and San Quentin, Avenal, and Donovan state prisons, and others.
Thank you to everyone who took the risk of being involved in the creation of this exhibition and on-going project. Without your trust in this open, creative process and, for many of you, your willingness to allow your images and words to appear in this context, the impact of this work would be lessened.  — Gregory Sale